MRE Slot News 30 May 2013
Welcome back to the MRE Slot Newsletter. After several weeks without the Slot Newsletter we are very pleased to be back online with business as usual. We do have some MRE website news to tell you about, see below.
NEW IN STOCK
Just arrived this week are new cars from Fly and SLOT-IT.
The Toyota 88C in Denso livery is the latest SLOT-IT Group C car to be delivered, and one of the most recogniseable identities the car raced in.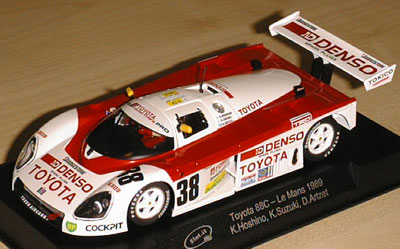 Three new cars from FLY, the Lola T70GT is in the economic Alpha Series and is a livery not produced before. Associated with film star James Garner, the Air Lola raced at Daytona. The final Alfa Romeo TZ2 Le Mans team car has arrived, now available for completing the collection with the first two models. The BMW M3 E30 was driven by Marc Duez in Corsica sporting Pro Drive livery.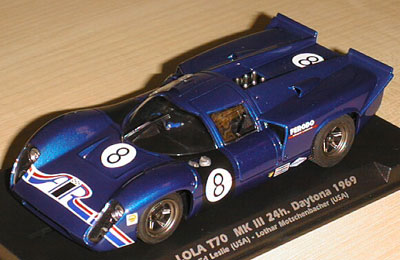 F-705102 Lola T70GT Air Daytona
F-057306 Alfa Romeo TZ2 LM65 # 43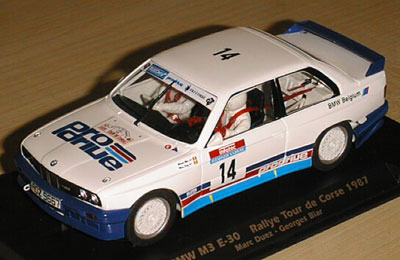 F-038102 BMW M3 E30 Pro Drive Corsica
DUE TO ARRIVE
Almost can't believe we are saying this, but we are expecting the new Camaro to be delivered by PIONEER. Following production problems in China, a complete move back to the UK has delayed the release for over a year, but now five new cars are on the way. Four race liveries plus the typical PIONEER satin black Stealth Camaro are all available for advance order, which we strongly recommend because they will be in short supply.

Pioneer Chevy Camaro SS - 5 different cars to choose from
On the way to us are the new SLOT-IT European Championship kits. Four different kits of the Mazda 787B, Mercedes C9, Porsche 962KH, and Lancia LC2, have alternative parts that comply with the 2013 European Championships. This represents a saving for competitors and anyone else who wants and indecently quick car for club racing, as SLOT-IT have included all the right bits to build a car to the latest racing specification. EUROPEAN CHAMPIONSHIP KITS
Also on the way from SLOT-IT is the first of the Porsche 962 IMSA cars. The bright red Coke car will be here in a few days.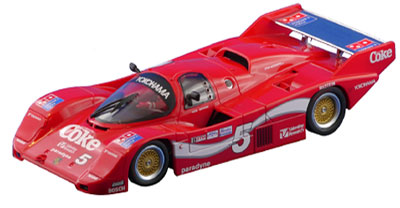 SI-CA25a Porsche 962 IMSA Coke
The special NSR Corvette Ltd Ed is on the way to us. Supplied in a presentation box this car celebrates 15 years since NSR was started. We think this is probably the best looking Corvette yet from NSR, and delighted that it is the same price as standard releases. It is a limited production so we suggest getting an advance order in as soon as possible to avoid disappointment as we are not sure how many will be available.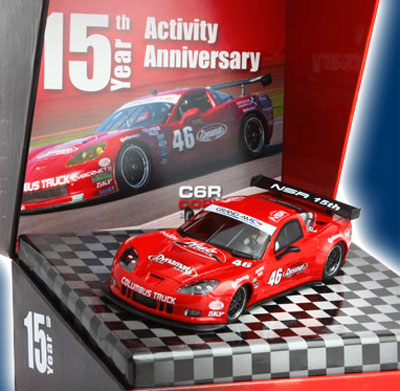 NSR-Set07 Corvette C6R Anniversary Ltd Ed
NEW CARS ANNOUNCED
Lots of new cars have been announced since our last Newsletter, obviously we haven't got room to show them all here but we can tell you about the latest and most interesting ones, and point you to others on the MRE website.
Latest announcements are from SRC who will be producing two more Porsche 907 cars from Le Mans. The # 67 car is a long-tail 907L from the 1968 race, the # 24 car is a short 907K raced at La Sarthe in 1972. Both available for advance orders now.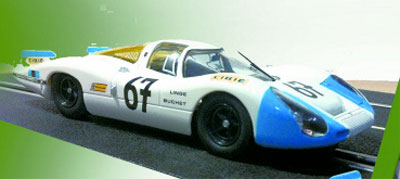 SRC-00103 Porsche 907L LM68 # 67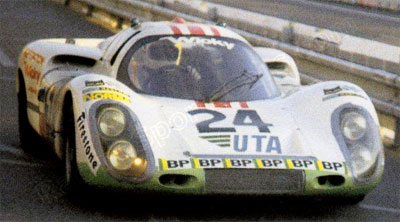 SRC-00204 Porsche 907K LM72 # 24
Since our last Newsletter NINCO have added quite a few cars for 2013. With 10 extra cars in the main range, plus another 4 NINCO-1 models, there is something for everyone. Classic Cobra and Jaguar E Type are joined by some tuned Lightning cars, plus new colours on your favourites. Have a look here at the NINCO 2013 NEW ANNOUNCEMANTS
A new car from TEAM SLOT will be most welcome, as it is a droop-snoot Ford Escort RS2000 MK2. Whether you like the iconic road car or a rallying version, we think this one will be around for some time as there are so many different colours and liveries to be done. The first model will be a Daytona Yellow road car, and will be released alongside a Limited Edition for the UK. The Liverpool Police famously used the RS2000 and a special edition of only 400 cars, complete with flashing roof lights, is being produced. Both cars are available for advance order now. Don't forget the TEAM SLOT Lancia Stratos Martini and Alpine A310 Calberson cars which are also due to be released very soon.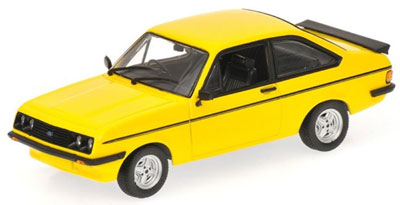 TMS-RS2Y Ford Escort RS2000 MK2 yellow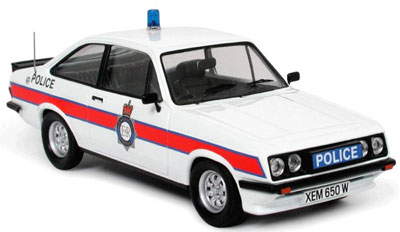 TMS-RS2P Ford Escort RS2000 Police
SCX are now confirmed as producing new cars this year, and have announced a range which includes the delayed Renault 4L Rallye. We counted 15 new cars which is too many to show you here, but you can take a look on the MRE website at new models which include cars in Red Bull colours, a Fiat Abarth 1000, the return of the Morgan and Barracuda, plus lots of rally and DTM cars. SCX 2013 RANGE
NSR have added another version of the Porsche 917K, one that has not previously been produced as a slot car, the # 57 Zitro car from Le Mans 1971 will be available very soon. Playboy sponsored a Porsche 997 RSR at the Daytona 2007 race, and NSR are releasing the car which had a black livery. Additionaly there will be a green car with the same design, although not prototypical we think it looks just as nice.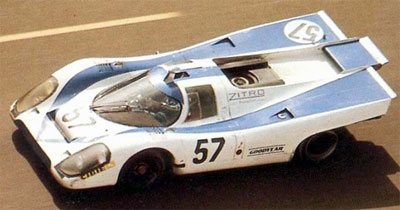 NSR-1152 Porsche 917K LM71 # 57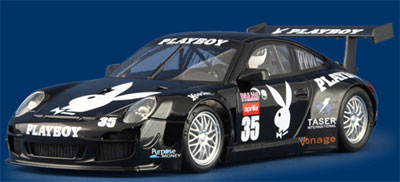 NSR-1143 Porsche 997 RSR Playboy black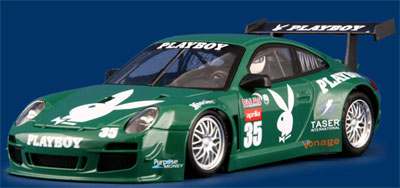 NSR-1153 Porsche 997 RSR Playboy green
RACER have been busy adding more cars to their 2013 release list, mostly in the very popular Sideways Group 5 Series. New additions include the Lancia Beta Montecarlo in blue swirly and Martini liveries, the Liqui Moly Zakspeed Capri, a bright red Momo liveried Porsche 935 Moby Dick, and a pair of extra BMW M1 racers. Take a look at what you can expect by looking at the RACER GROUP 5 cars range. The main range of RACER cars has been increased with the announcement of the Ferrari 512S with bright yellow Tergal colours from Le Mans 1970.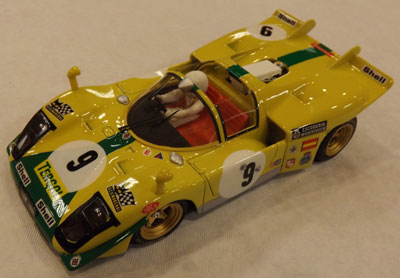 RCR-66 Ferrari 512S Tergal LM70 # 9
We have added some new cars by LE MANS MINIATURES. Classic fans will be delighted by the announcement of the long-nose Ford GT40 cars from Le Mans 1965, complete with their extra tail fins. Moving on a few years, and there will be the complete Le Mans team of Alpine Renault A220 cars from the 1969 race, and most up to date with the complete Audi R18 team from 2012. Have a good look at the LE MANS MINIATURES 2013 RANGE
Hard on the heels of the FLY Lola T70 Air car just received, we have news that FLY are also producing the car in black as it ran in testing. Commisioned as a Ltd Ed car for the USA, we will be getting a limited number of cars. As far as we know this will be the first model of the Lola in this colour, so one to look out for.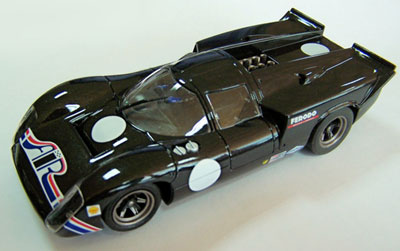 F-705301 Lola T70GT Air Test Car
NEWS ROUNDUP
NEW SLOT MAGAZINE. Many of you will have heard about the new slot magazine due to have Issue 1 in the shops next week. For the first time in many years there will be a magazine devoted to slot cars in High Street shops such as WH Smith and many others, and it will also be available in many other countries. Publishers ADH have several hobby magazines already, and a worldwide distribution for all of them so the new slot magazine should be at a shop near to you. If not, and if you want to be the first to get it, you can take out a subscription. Have a look at the magazine website at www.slotmagazine.co.uk or get the app for your phone or iPad.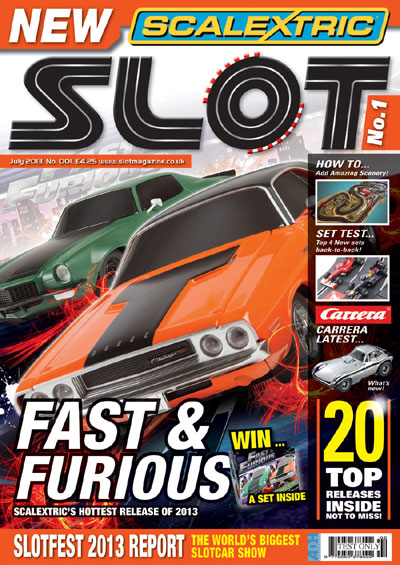 MORE SRC CAPRI LTD ED CARS. Following the very nice Capri RS2600 Broadspeed car produced for their UK distributors Gaugemaster, SRC are also producing special cars for Germany and South Africa. The German distributor H+T will be getting the bright blue & yellow Bilstein car which raced at Nurburgring in 1972, while Kikali in South Africa will have the red & white Lucky Strike car that raced at Kyalami in 1971. It is possible that a few of these models will reach the UK, if we can get hold of any we will let you know.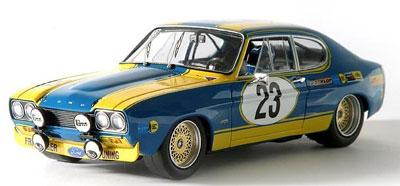 SRC-900108 Ford Capri RS2600 Bilstein Nurburgring - exclusive for H+T Germany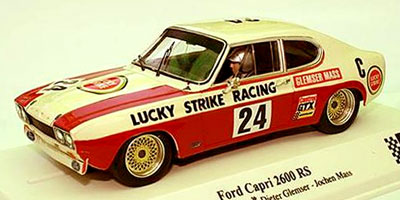 SRC-908109 Ford Capri RS2600 Lucky Strike Kyalami - exclusive for Kikali South Africa
RACER FERRARI TRANSPORTER WILL ARRIVE BY JULY. This was confirmed by Marco during the Slot Festival at Gaydon. Announced to great acclaim last year, this is a very limited production item and because of the superb detail has taken longer to produce than anticipated. We suspect the success of the Group 5 cars also has something to do with the delay, but the transporter is now very close to production. As this is a once-only production, advance orders are essential.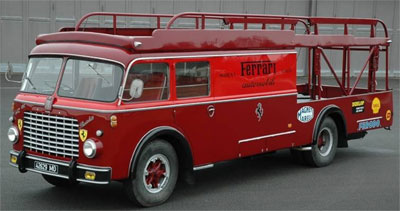 RCR-T1 Ferrari Race Transporter
SCALEXTRIC EXCLUSIVE PICTURES. Coming soon to your favourite slot retailer are two classic cars from SCALEXTRIC. We have pictures of the finished models signed off for production, hope they appeal to you as much as they do to us.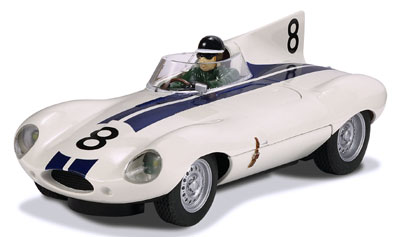 S-C3308 Jaguar D Type Sebring # 8 Hawthorn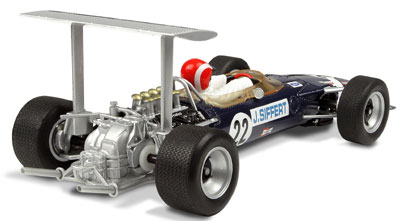 S-C3413 Lotus 49B Siffert 1968 Brands Hatch
UPDATED MRE WEBSITE
Instead of a picture quiz this week, we need to tell you about the MRE website. Please read all the details as there are some things that will affect you.
We suffered a total server drive failure, which took some time to discover the extent of the damage. We have had to rebuild from a backup copy that is 2 years old, and this has taken some time to do as it involved a complete stock check, weighing and pricing items, and then uploading the details to the stock database. We tried to keep you informed about new arrivals with a holding page, but of course this is far short of our normal service. We are now back online and should have business as usual, but there are a few things to be aware of.
1. When the server drive crashed, we were able to retrieve lots information but it is 2 years old. Some sectors were so badly corrupted they could not be retrieved. This means we have lost all the advance orders, so we would like everyone to make new orders please.
2. Discount Status has been affected because there is no data to lookup for the last 12 months. Star Customers are most affected, but we are happy to reinstate your discount as we can manually track payment records. Please email us if you would like us to check your discount status.
3. Club Memberships are affected in the same way as Discount Status - there is no data for memberships entered in the last 12 months. Please contact us with your current membership details and we will be happy to vaildate it for you immediately.
4. Advance order improvements. Something we wanted to do for some time, but was impossible with advance orders in place. We have modified the advance order system so that all of your advance orders will now be in a single list instead of in separate orders. This will be much easier for you to track exactly what you have on order, as you only have to look once to see everything in one list. We hope you like this and will find it easier to manage, it will certainly make our job much easier as well.
Thank you for your patience through a difficult time - please spend some time looking around at all the new items that you may not have seen before, we expect to keep you up to date with all the news and announcements as we have done in the past.
Quiz entries - you can email your answers to us at mre@mre.co.uk
Quiz Entries - Please title your entries Slot Quiz when sending your email answer. Quiz Prize is valid for 2 weeks from date the winner is announced. As it is a free quiz and free prize, we will not post the prize separately but we will include the prize in any order posted to the winner within the 14 days from being announced.
Car of the Week - available for 7 days from publication of the Newsletter, while stocks last. Only orders received within this time and with receipt of the code number will be eligable for the extra discount.
More email news soon - but if you can't wait then take a look at our HOT NEWS items which we add to regularly.
All text and pictures in this newsletter and on the MRE website are COPYRIGHT of MRE and may not be used in any way without written permission.