MRE Slot News 6 June 2013
NEW IN STOCK
New cars and kits in stock this week from AVANT-SLOT and NINCO and NSR and SCALEXTRIC and FLY and SLOT-IT. Lets start with the cars.
NSR have delivered a Limited Edition of the Corvette C6R in a presentation box, but at the same price as normal releases. The car commemorates the 15th Anniversary of NSR, and is finished in the bright red Dynamat livery. This is the first car to be completely designed, manufactured, finished, and shipped from NSR, with no outside involvement. We think the standard of finish is the best yet from NSR.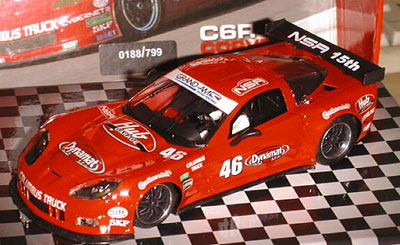 NSR-Set07 Corvette C6R Dynamat Ltd Ed 15th Anniversary
Two cars from FLY this week, and they are both special. The Lola T70GT is a Limited Edition for the USA and depicts the Air Lola as it ran in testing in a black scheme. We got a small number of cars and can't get any more, so be quick if you want one. FLY also delivered their final model of the Lotus 78, and it is worth waiting for. Finished in JPS livery, the car has the full John Player Special markings on a high gloss finish and is absolutely stunning. Driven by Ronnie Peterson at Monaco, this is an iconic model for collectors and Lotus fans, not to be missed.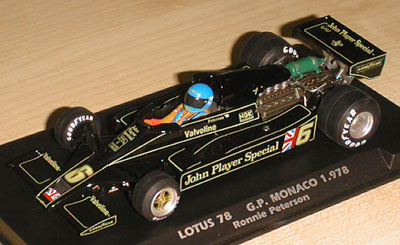 F-058105 Lotus 78 JPS Peterson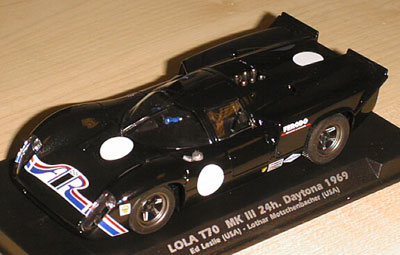 F-705301 Lola T70GT Air Test Car Ltd Ed
New cars and a Limited Edition set from SCALEXTRIC, but we must say we are unhappy that SCALEXTRIC have returned to their bad habits of part deliveries again. Only a portion of the C3416 Ford Escort RS1800 Castrol and the C3373A Fast & Furious Set have been delivered, and the balance will not arrive in the UK until the end of the month. Having said that, we must say the Escort is very good, with a full set of spotlamps and Minilite wheels the miniature Bertie Fisher seems to be enthusiasticaly fighting the steering wheel while Austin Fraser reads the pace notes. The Fast & Furious cars are fully detailed models, unlike the set cars which are cheaper SR versions. Just as seen in the films, the Camaro has a flat satin green finish, while the brand new Dodge Challenger is shiny orange. Both cars have new driver figures. We do have another hot American car in stock as the Boss Mustang also arrived, in an unusual but very nice plum colour.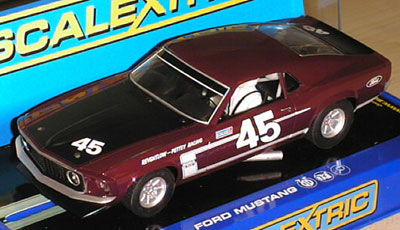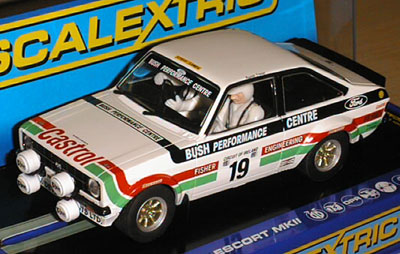 S-C3416 Ford Escort RS1800 Castrol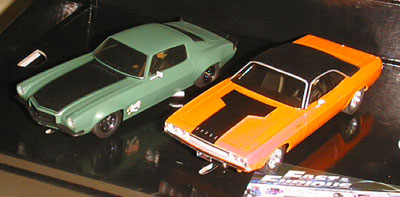 S-C3373A Fast & Furious Camaro & Challenger Ltd Ed
The Porsche 962 IMSA has arrived from SLOT-IT in the bright red Coke livery. The porsche 956/962 has many variations during its competitive life but this is the first model of the IMSA spec car.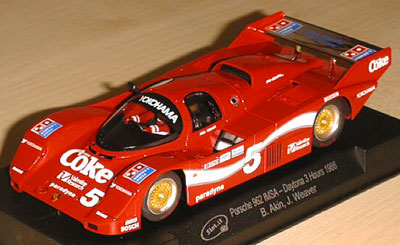 SI-CA25a Porsche 962 IMSA Coke
Are you ready for this ? We have no less than TEN new NINCO cars available. A real mixture of classic, Lightning, NINCO-1, and standard range models means there must be something here for everyone.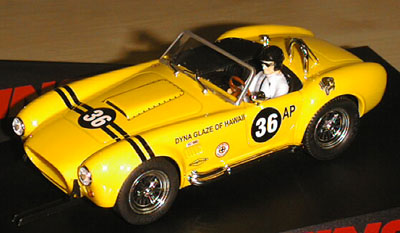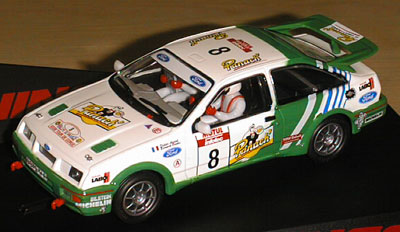 N-50603 Ford Sierra Cosworth Panach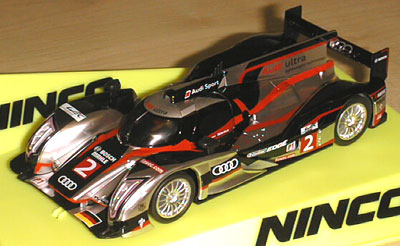 N-50617 Audi R18 TDi Silverstone lightened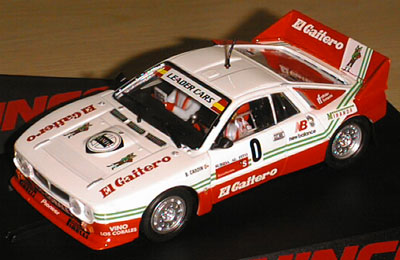 N-50618 Lanca 037 Rallye El Gaitero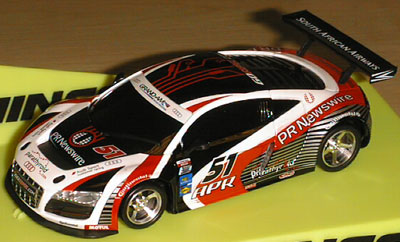 N-50623 Audi R8 GT3 PR Newswire Lightning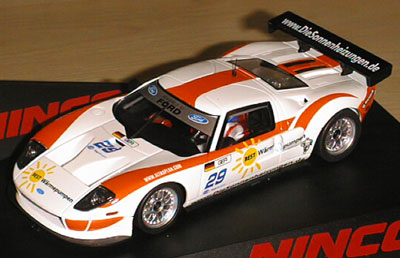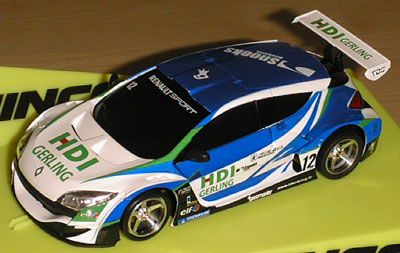 N-50626 Renault Megane HDI Gerling Lightning
N-55085 NINCO-1 Mercedes SLS Kfzteile
N-55086 NINCO-1 Corvette GT3 Whelan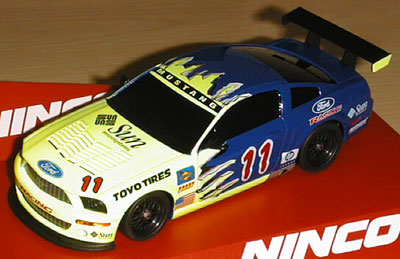 N-55087 NINCO-1 Ford Mustang Sun
Moving on to the new kits in stock, we can start with the AVANT-SLOT kits of their awesome MAN Dakar Raid Truck. The truck has 2 motors each driving one end of the vehicle, and has proper suspension at each corner. The Advanced Kit that we have received has options including different rate suspension springs, drop arms, and gear ratios. If you fancy trying to build a chassis for one yourself, we also have the bodyshell kit available. The MAN truck is one of the most impressive and fun off-road slot models available, its big, its powerful, and its fast. What more can you need ?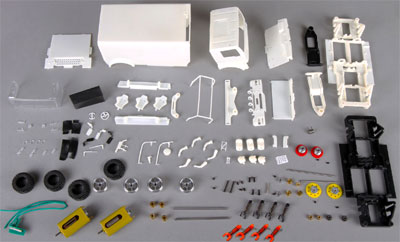 AVS-50499 MAN Dakar Raid Truck advanced complete kit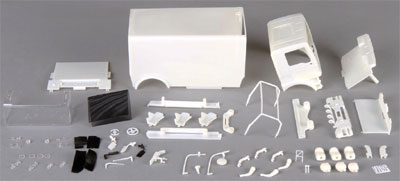 AVS-20213 MAN Dakar Raid Truck bodyshell kit
SLOT-IT have released the first two of their four European Championship kits. Complete will all the parts to comply with the regulations, these will build into a very fast club racer as well. The Lancia LC2 and the Mazda 787B are already known as top performers so these kits should be something very special when built up.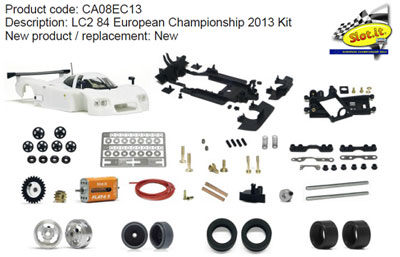 SI-CA08EC13 Lancia LC2 European Championship complete kit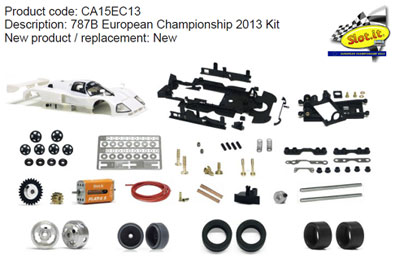 SI-CA15EC13 Mazda 787B European Championship complete kit
SLOT-IT have also delivered a couple of fully decorated bodyshell with chassis kits. The Lola LMP Rebellion has gold plating on the red & white scheme, the Audi R18 has the flat black Test Car finish.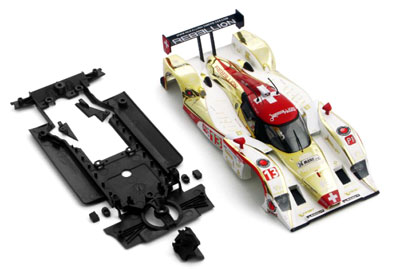 SI-CS22LB Lola LMP Rebellion painted body + chassis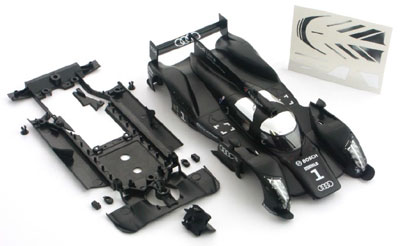 SI-CS24LA Audi R18 Test Car painted body + chassis
DUE TO ARRIVE
Another SCALEAUTO BMW Z4 GT3 is on the way, the new car is the Liqui Moly model as raced at the Dubai 24 Hours. SCALEAUTO have made some upgrades to the BMW Z4, these include a new magnet position, body fixings, axle bearings, front axle adjustment, stiffer chassis material, and a flexible antenna.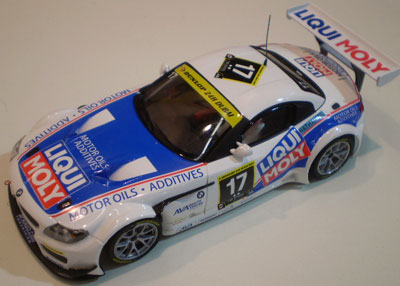 NEW CARS ANNOUNCED
We are pleased to invite orders for the first ORIGINAL SLOT CAR release. Shown to great acclaim at Nuremberg in February, this very detailed car includes many etched metal parts and superb detail throughout. This is a high quality item, and admittedly not the cheapest rally car available, but it also has excellent performance to match its looks.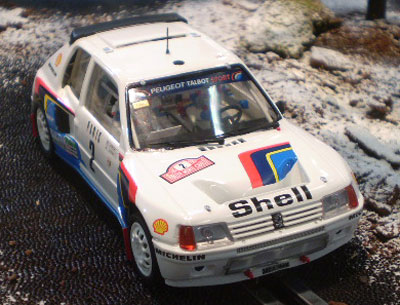 OSC-0001 Peugeot 205 T16 Monte Carlo 1985 Vatanen
NEWS ROUNDUP
SCALEXTRIC FORD FOCUS WRC CANCELLED. We have been advised that the SCALEXTRIC C3399 Ford Focus WRC Abu Dhabi has been dropped from this years range. Due to the rapid changes in motorsport and sponsorship the car is unlikely to be reinstated for next year. A pre-production model had been signed off and we have a picture of what is now the only car of its type to exist. One for the Hornby NSCC Auction in November maybe ?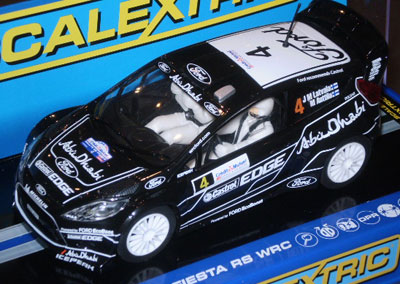 Scalextric C3399 Ford Focus WRC Abu Dhabi - now cancelled
NINCO CARS COMING SOON. To many people the Eggenberger Ford Sierra Cosworth in Texaco livery is the definitive model of this car. In case you missed the announcement, we are pleased to have a picture of the imminent NINCO release of this model. The Ford Mustang FR500C Dominator in the NINCO-1 range looks much more attractive than the origianl press release picture of the car as well.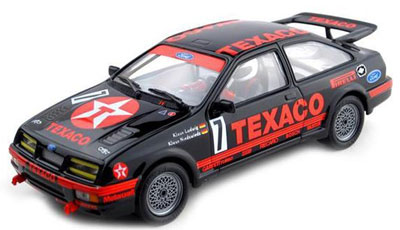 N-50629 Ford Sierra Cosworth Texaco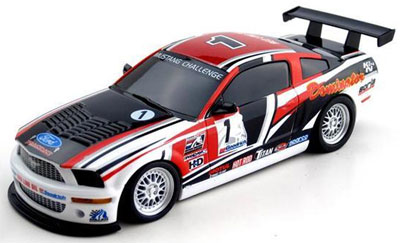 N-55083 NINCO-1 Ford Mustang Dominator
SLOT MAGAZINE DIGITAL COPY. Just ahead of the subscription and newsagent release of the new SLOT Magazine, you can have a digital copy now. If you are happy to have the digital version you will find it at this location :
http://www.pocketmags.com/viewmagazine.aspx?titleid=1713&title=Slot
National UK newsagents WH Smiths will be stocking the magazine from 20 June, but unfortunately not in every single branch. It can be requested in your local Smiths, but you will find it in all the branches listed here :
http://www.slotmagazine.co.uk/whsmiths-stockists/
Dont forget the new magazine also has its own WEBSITE

SIGNED EDITION OF SRC BROADSPEED CAPRI. Driver Andy Rouse has signed a very limited edition of the Broadspeed Capri that he drove at Silverstone and recently released as a Limited Edition by SRC. Only 25 cars have been signed, and we will have a very small stock availability of them next week. First come - First served on this one, there won't be any more, sorry.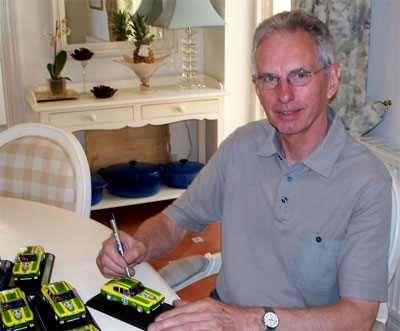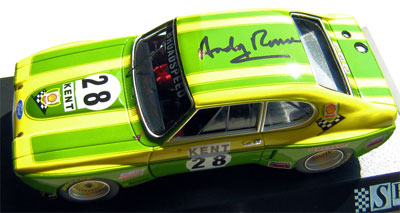 SRC-900107AR - Broadspeed Capri Andy Rouse Signed Edition
NOT THE PICTURE QUIZ
Yes, for the second week in a row we don't have a Picture Quiz, sorry. We are taking up the space to tell you about a SILLY PRICES SALE to clear some stock and make room for all the exciting new cars due to arrive.
SILLY PRICE SALE
Dozens of cars reduced to prices you can't refuse !
Want a bargain ? Just look for the SPECIAL OFFERS button on the MRE website.
Quiz entries - you can email your answers to us at mre@mre.co.uk
Quiz Entries - Please title your entries Slot Quiz when sending your email answer. Quiz Prize is valid for 2 weeks from date the winner is announced. As it is a free quiz and free prize, we will not post the prize separately but we will include the prize in any order posted to the winner within the 14 days from being announced.
Car of the Week - available for 7 days from publication of the Newsletter, while stocks last. Only orders received within this time and with receipt of the code number will be eligable for the extra discount.
More email news soon - but if you can't wait then take a look at our HOT NEWS items which we add to regularly.
All text and pictures in this newsletter and on the MRE website are COPYRIGHT of MRE and may not be used in any way without written permission.