MRE Slot News 13 June 2013
NEW IN STOCK
We have a new Camaro from PIONEER and four new CARRERA cars in stock.
The first of the PIONEER Chevy Camaro SS models to arrive is the satin black Camaro Stealth. This follows a pattern of cars by PIONEER, as the Ford Mustang and Dodge Charger have also been released in a completely black Stealth scheme. Looking at the Camaro, it is everything that was promised, we can't find a bad angle to look at it from, in fact we particularly like the direct front and rear views. We haven't had a chance to get one near a track yet, but if it performs like the Mustang and Charger it will be a winner.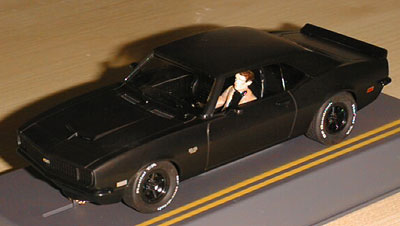 PNR-042 Chevy Camaro SS Stealth
The first new CARRERA car to be delivered is a 1/24 Digital model of the Ferrari 250 GTO. An evergreen favourite (if we are allowed to say that about a bright red car) the latest version is exactly how we imagine a racing GTO should be, and is sure to be popular among racers of the larger scale.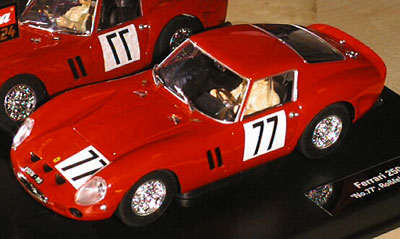 CAR-23784 Ferrari 250 GTO # 77
CARRERA also delivered three cars in 1/32 scale. The Cheetah has a plated finish to replicate the highly polished aluminium prototype. The Cobra has a nice blended metallic finish more akin to a custom car, and is described by CARRERA as 'Universal Memories', we assume it is mythical as we can't find any reference to a real car, but we would be delighted if anyone can tell us any more. The Ferrari 458 Italia is of course a current competitive GT racer.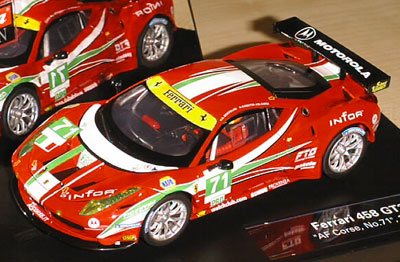 CAR-27426 Ferrari 458 Italia AF Corse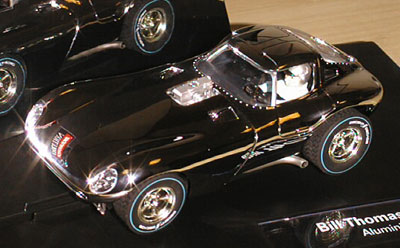 CAR-27432 Cheetah Polished Aluminium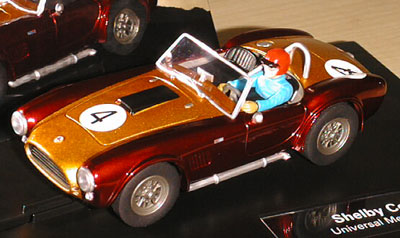 CAR-27433 Cobra Universal Memories
DUE TO ARRIVE
The new ORIGINAL SLOT CAR model of the Peugeot 205 T16 is raedy to be shipped, so we have have the first car from this high-quality manufacturer in stock very soon.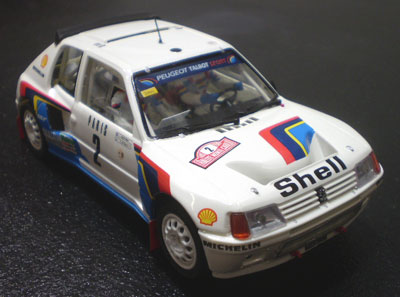 OSC-001 Peugeot 205 T16 Monte Carlo
Still on the way is the SCALEAUTO BMW Z4 Liqui Moly car we told you about last week. Also due is the SRC Capri Broadspeed Ltd Ed car signed by Andy Rouse, we have a picture but don't have any more available as they are all sold out to advance orders, sorry.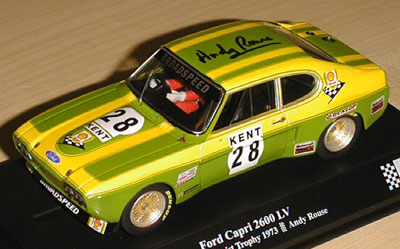 SRC-900107 Broadspeed Capri Signature - sold out to advance orders
There are some kits due from SLOT-IT, new models from TEAM SLOT, and a delivery on the way from RACER so we should have some fast and good looking cars for you next week.
NEW CARS ANNOUNCED
Here is something very special, a very Limited Edition from PIONEER. A few clear plastic flow models have been built up of the new Camaro SS, and we will be able to get hold of a small number. Early advance orders and keep your fingers crossed you will be lucky !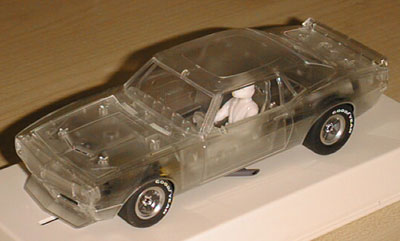 PNR-020 Chevy Camaro SS X-Ray Ltd Ed
Two trucks announced by FLY are Limited Editions for the USA. The SISU Truck hasn't been around for a while so many people will not have had the opportunity to get one yet. Finished in the well known courier liveries of Fed-Ex and UPS, we will have a limited number available.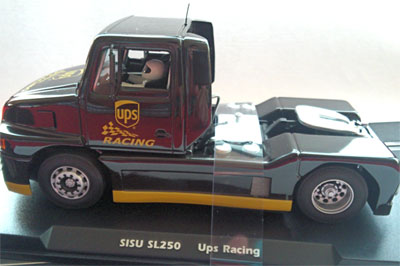 F-201301 SISU Truck UPS Ltd Ed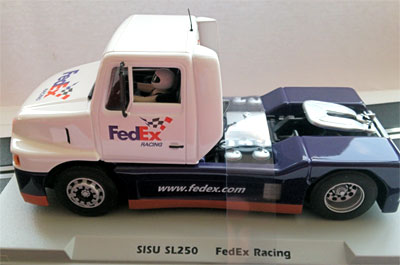 F-201302 SISU Truck Fed-Ex Ltd Ed
NEWS ROUNDUP
SLOT MAGAZINE OUT NOW. The first issue of the new SLOT MAGAZINE has been despatched to subscribers, and will be available in many branches of WH Smiths and other newsagents next week. If you prefer a hard copy (a digital version has been available for a couple of weeks already) then find a newsagents that has it in stock, or make sure you order your own copy. If thats too hard, we also have it available for sale on the MRE website.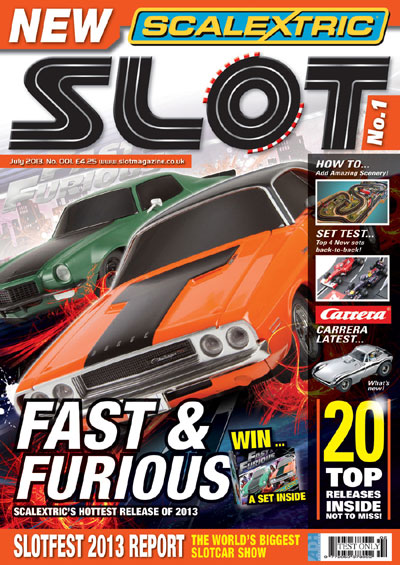 SM-001 Slot Magazine Issue # 1
PIONEER CAMARO TEST CAR. After being able to take orders for the Camaro SS X-Ray shown above, we were able to have a look at another Camaro produced during the manufacturing process. Moulded in a clear red colour, PIONEER have labelled it the Red X-Ray car and confirm that less than 20 were produced when testing plastic blends. Are they ever likely to be available for sale ? Maybe the odd one or two will turn up, but at least you know that it exists.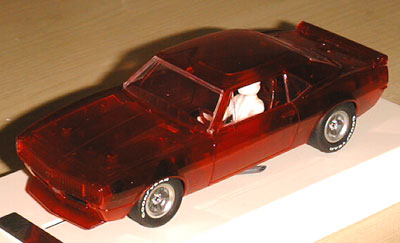 PIONEER Camaro SS Red X-Ray test blend model
SLOT MAGAZINE - FREE COPIES AND EXTRA DISCOUNTS. Two more things you should know about the new SLOT MAGAZINE. Firstly, the publishers have kindly offered to send a FREE COPY to your favourite slot shop. Anywhere in the world ! All you have to do is send all the details of the shop name, postal address, phone number,email address, and website if available, by email to alan@adhpublishing.com before 30 June and they wil get a free copy.
Here at MRE we have decided to support anyone who has subscribed to the magazine by giving an extra 10% discount off your first order as a subscriber, even if you are already an MRE customer and get the top discount. Just email us when you place and order and we'll ask ADH Publishing to confirm that you have subscribed to Slot Magazine, the you will have 10% of your order value refunded to you. Sounds like a real bargain to us.
SCALEXTRIC BIKE RIDE RAISES OVER £10000. Last weekend several Hornby staff mebers took part in a Charity Bike Ride around the Isle of Wight. Covering 0ver 70 miles in 2 days, the event was a hobby industry sponsored event and Hornby were one of many companies taking part. We are pleased to say that the SCALEXTRIC team raised over £10000. We were hoping for some pictures but on second thoughts the idea of Adrian Norman in lycra shorts is a little too much to bear.......
MRE SALE CONTINUES. Yes, our Silly Price Sale in on for another week. It wasn't intended to be, but we just haven't got time to adjust all the sale prices back to normal today, so all you lucky folks get some more time to pick up some cheap cars.
Quiz entries - you can email your answers to us at mre@mre.co.uk
Quiz Entries - Please title your entries Slot Quiz when sending your email answer. Quiz Prize is valid for 2 weeks from date the winner is announced. As it is a free quiz and free prize, we will not post the prize separately but we will include the prize in any order posted to the winner within the 14 days from being announced.
Car of the Week - available for 7 days from publication of the Newsletter, while stocks last. Only orders received within this time and with receipt of the code number will be eligable for the extra discount.
More email news soon - but if you can't wait then take a look at our HOT NEWS items which we add to regularly.
All text and pictures in this newsletter and on the MRE website are COPYRIGHT of MRE and may not be used in any way without written permission.