MRE Slot News 20 June 2013
NEW IN STOCK
We have new cars this week from PIONEER and NSR and RACER and ORIGINAL SLOT CAR.
Starting with a few NSR cars, the Porsche 917K has another identity as the # 57 car from Le Mans 1971. The neat little Abarth is now available with the GP Lotus black livery, joining its brothers with their Ferrari and McLaren colours. The Porsche 997 GT3 is released in Playboy graphics, the black car raced for real at Daytona and the green car is simply because NSR like the colour. More NSR cars further down the page.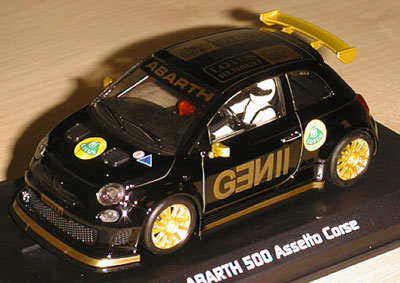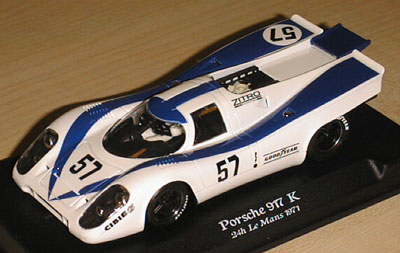 NSR-1152 Porsche 917K Zitro LM71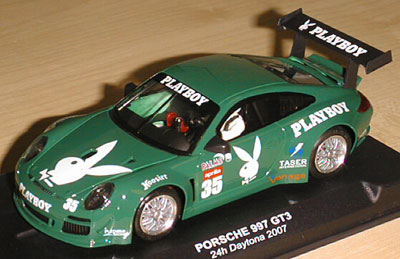 NSR-1153 Porsche 997 GT3 Playboy green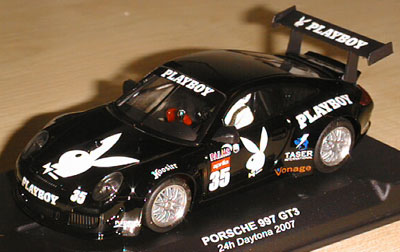 NSR-1143 Porsche 997 GT3 Playboy Daytona
The ORIGINAL SLOT model of the Peugeot 205 T16 has arrived. When we previewed this car at Nuremberg we showed you the high quality of the body and chassis, using the best components with excellent engineering. We are pleased to report that the car performs as good as it looks, so this should be a must-have for Slot Rally drivers. The detail and finish are superb, and the price justifies the fact it is streets (or stages) ahead of other rally cars on the market.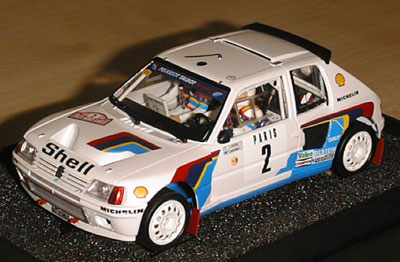 OSC-1001 Peugeot 205 T16 Monte Carlo
RACER sent us three versions of the Ferrari 275 GTB. The race car is the N.A.R.T. entry at Le Mans 1966. The street cars in bright red and yellow are just as desireable, if not more so. The 275 GTB is one of the few Ferraris that looks better as a street car than with race numbers on it, probably because it was never initially destined for competition, and the RACER model captures the feel of a classic very well.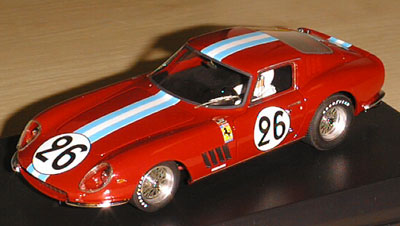 RCR-SL17 Ferrari 275 GTB N.A.R.T. LM66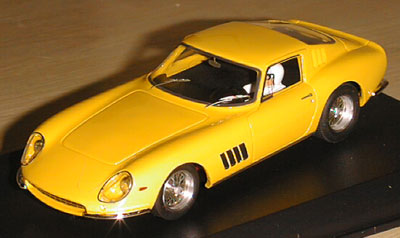 RCR-SL16Y Ferrari 275 GTB yellow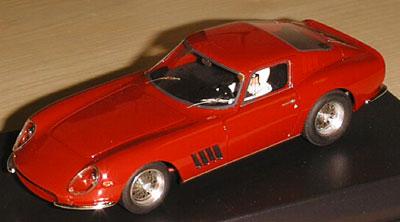 Hard on the heels of the Camaro SS Stealth released last week by PIONEER, we now have a very limited number of the same car in X-Ray spec. These are essentially mould tests in clear plastic, but as they are faultless PIONEER have been able to build a few up and release them as a Limited Edition. We hope to have more of the Camaro SS Stealth in stock soon.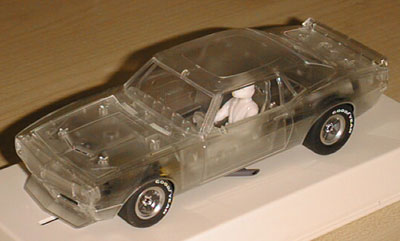 PNR-020 Chevy Camaro SS X-Ray Ltd Ed
Now for a few more new cars from NSR. The Audi R8 GT3 cars are finished in the mythical colours of Spains premier football teams. The Mosler MT900 Britcar has two versions because one has the EVO3 chassis and one has the later EVO4 chassis. See below for pictures of the development. We have shown these new NSR cars separately because we are releasing them at a special price. If you have seen our Silly Price Sale during the last two weeks, you will know just how cheaply we are moving some models, and these four cars from NSR have been added to that list. If you want a bargain brand new NSR car then now is the time to grab one while stocks last......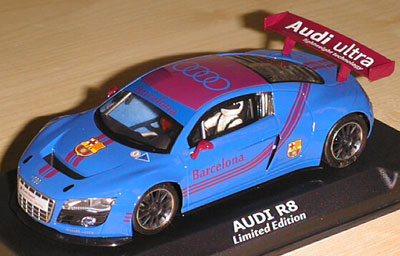 NSR-1139 Audi R8 GT3 Barcelona Ltd Ed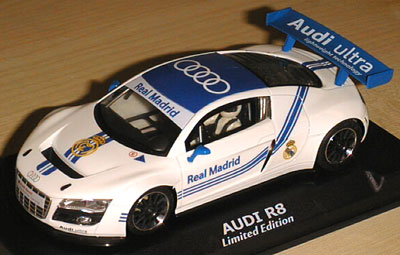 NSR-1140 Audi R8 GT3 Real Madrid Ltd Ed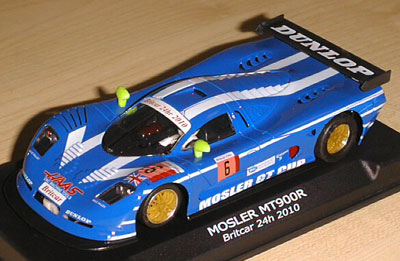 NSR-1136 Mosler MT900 Britcar EVO3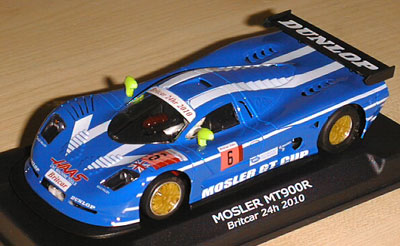 NSR-1138 Mosler MT900 Britcar EVO4
DUE TO ARRIVE
The Ford GT40 team cars from the Le Mans 24 Hours 1965 are being shipped by LE MANS MINIATURES. These are the long-nose cars with the extra fins on the rear deck, a unique version of the GT40 and one that has not been properly modelled before.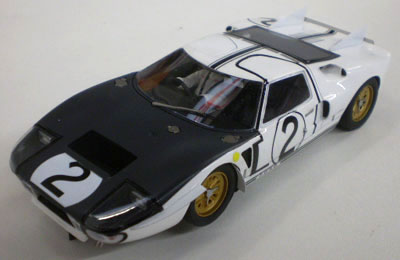 LMM-132065 Ford GT40 LM65 - two team cars to be released
The second deliveries of the SCALEXTRIC S-C3373A Fast & Furious Ltd Ed and the C3416 Ford Escort RS1800 Castrol are due to dock this week. Arriving in the same container are the Holden Torana Blues Union and the Ford GT40 France cars.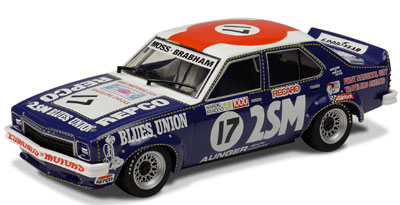 S-C3304 Holden Torana Blues Union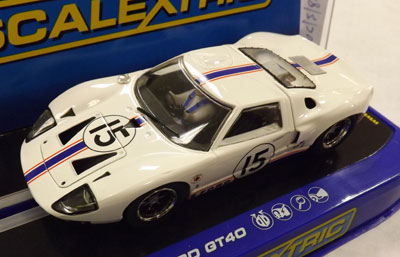 We are also due to receive some new NINCO cars in June, including the Jaguar E Type Lightweight Grand Prix and the Sierra Cosworth Texaco plus some others.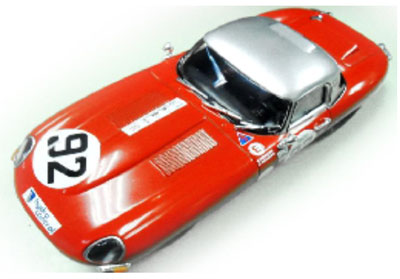 N-50628 Jaguar E Type Grand Prix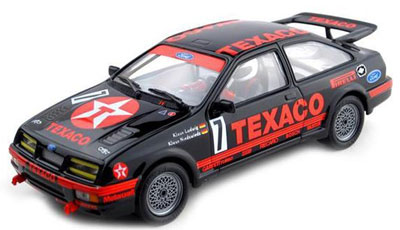 N-50629 Sierra Cosworth Texaco
NEW CARS ANNOUNCED
Due for July release, CARRERA have two new cars for the UK. These are Limited Edition models but at the same very good price as the rest of the range, so an absolute bargain ! We will only be getting one delivery as numbers are restricted, and as these Can-Am monsters are among the biggest and widest sports cars available we expect demand to be interesting - make an early advance order to avoid disappointment.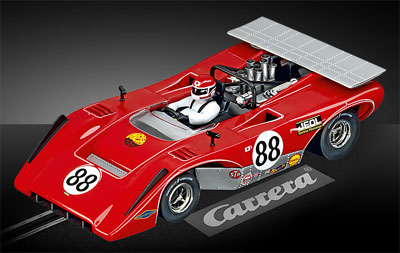 CAR-27436 Lola T222 # 88 Ltd Ed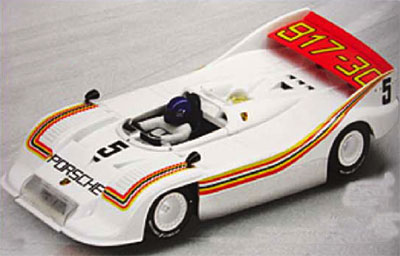 CAR-27437 Porsche 917/30 # 5 Ltd Ed
Another special Capri RS2600 is being made by SRC as a Limited Edition for Germany. We will be getting some of the Bilstein car as raced at Nurburgring, but not very many. Following the release of the Capri RS2600 Broadspeed car as a Ltd Ed for the UK a few weeks ago, this model of the Capri is starting to build up into a nice series if you can collect them all.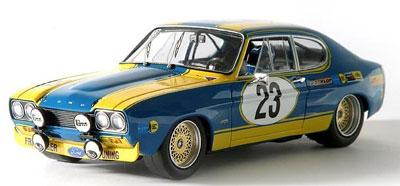 SRC-900108 Ford Capri RS2600 Bilstein Ltd Ed
One of the NSR most popular models is the Ford P68, and just announced is the car that raced in the BOAC 500 at Brands Hatch in 1968. Yes, we know the P68 has been done a few times, but this is a proper race car in the iconic Alan Mann colours. You know you want one......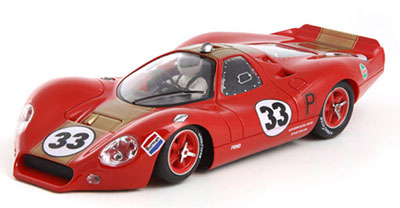 NSR-1144 Ford P68 BOAC 500 1968
NEWS ROUNDUP
CARRERA COBRA UNIVERSAL MEMORIES. Thank you to everyone who emailed us about this car when we showed you the new model last week. We didn't know the reference to the original slot car produced by CARRERA back in the 1960s when is was part of the CARRERA UNIVERSAL range, as CARRERA was rarely seen in the UK at that time. Our European friends do have much better knowledge of the history of CARRERA and many thanks to everyone (including emails from the UK) who filled in the details for us. The original cars were produced in both 1/24 and 1/32 scales, and have vacuum bodyshells. The current release is only in 1/32 scale and is of course much more detailed. We do have more on order if you are still looking for one. Among the information from several of our Newsletter readers was this picture of a 1960s car to compare with the current release below.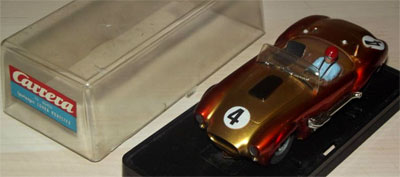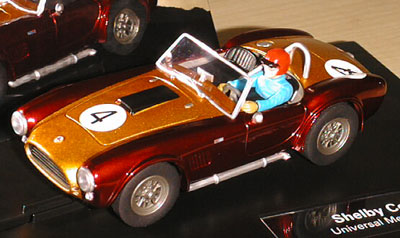 CAR-27433 Shelby Cobra Universal Memories
SCALEAUTO SPYKER UPDATE. Yes, it is going to happen and possibly this year. For everyone who was excited about the announcement of the Spyker last year by SCALEAUTO, we can report that design is underway at last and the cars will definitely be produced.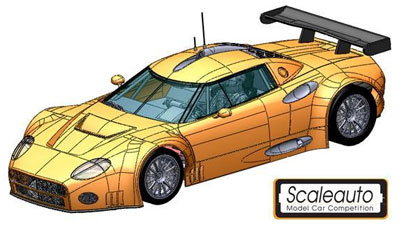 Scaleauto Spyker - two models from Le Mans 1985 and 1986
SCALEXTRIC LOTUS 49B WHITE LTD ED. We have been taking orders for this car which will be produced exclusively as a Limited Edition for SCALEXTRIC USA. Many cars have been produced in plain white for the USA in the past (and there are others this year including the Mercury Cougar and Dodge Challenger) but there is a notable difference with the Lotus 49B. For the first time, everything is painted white, not just the bodyshell. We expect details like bumpers (see below) and engine details to be painted as per mainsteam releases, but this picture of the pre-production model shows it to be completely white. As this is the sign-off model, we aren't sure if SCALEXTRIC can make any changes before production, but the car will probably be released as shown here.

S-C3442 Lotus 49B white Ltd Ed USA
SCALEXTRIC FIESTA WRC FOR SUPERSLOT CLUB. A special model of the Fiesta WRC car of Dani Sordo is being produced for the Spanish Superslot Club. Not available outside of Spain (sorry, we won't be able to get any) this is the Spanish equivalent of the SCALEXTRIC Racer Club cars produced for the UK. We hope that serious collectors have some contacts in Spain.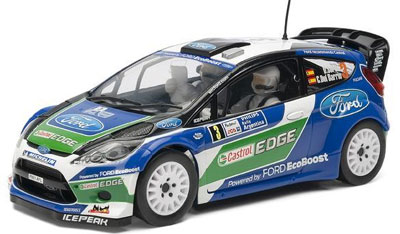 LE MANS MINIATURES SUSPEND AUDI R18 RELEASE. To better manage the 2013 programme, LE MANS MINIATURES have taken the decision to suspend or delay the production of the Audi R18 team cars from the 2012 Le Mans 24 Hours. We will retain your advance orders as the car will be produced at some time in the future, but it is no longer on the 2013 release schedule.
NSR MOSLER EVO3 & EVO4 CHASSIS. As we told you about the new release of the NSR Mosler MT900 Britcar models in stock above, we have a picture of the chassis fitted to both versions. On the left is the EVO3 chassis with the rectangular motor mount, the later EVO4 chassis with the triangular developed mount is shown on the right. Take your pick - they are both available at a Silly Sale price.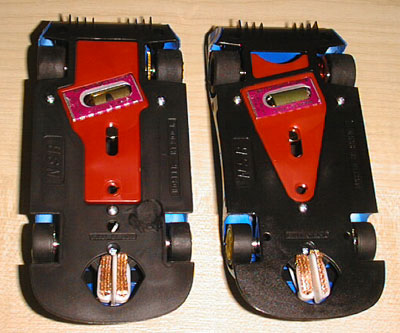 SLOTWINGS WILLIAMS FW08C SENNA. The first car in the SLOTWINGS Senna Collection is the Williams FW08C as reported previously. We saw an early sample at Nuremberg, but now a fully built up car has been finished. SLOTWINGS have not yet released any information about catalogue numbers, prices, release dates, or anything else except that the second car will be the Lotus 99T. We'll let you know as soon as get all the details.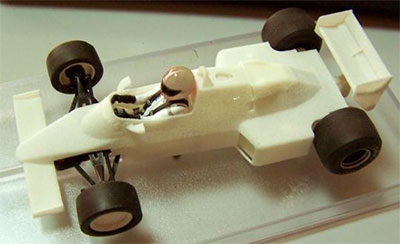 NEW POLICAR MODELS THIS YEAR. As shown at the Gaydon Slot Festival, the POLICAR brand has been revived, with input and collaboration from SLOT-IT. The first two cars will be the Ferrari F40 and the Ferrari 312PB, both recogniseable as previous SLOT-IT releases. In fact, both cars have been heavily revised for release in the POLICAR brand, so could almost be considered as new models. We are waiting for confirmation of catalogue numbers and relaese information before we list them for advance orders, but the very good news is that POLICAR are aiming for a price around £39.99 which will put them squarely into the SCALEXTRIC and SCX bracket. We are eagerly awaiting confirmation details.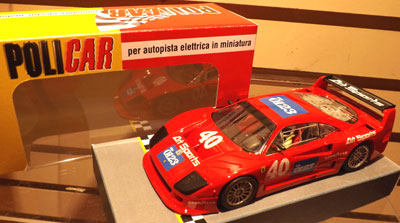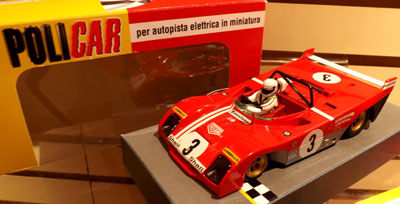 SCALEXTRIC BOSS MUSTANG USA REVISED. A short time ago we were advised that SCALEXTRIC are producing a second batch of the C2450 Boss Mustang plain white car as a Ltd Ed for the USA. As the car had already been released a few years ago we didn't take much notice at the time. Now we can see that unlike the first version which had plated and coloured detail, the new batch is totaly white, so in collectable terms should be designated a Type 2 version. We will try and get hold of some cars, as they will undoubtedly be collectable.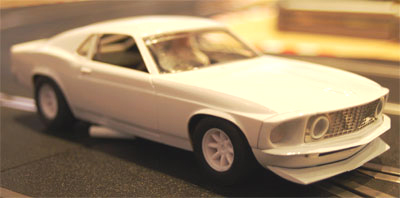 MRE OFFICE PHONE MESSAGES. Many of you will have noticed that we have a new call message service at the MRE offices. Unfortunately it doesn't give us enough time to get to the phone if we are in the warehouse or preparing parcels as it only rings 3 times before the machine activates the answerphone. It is very annoying for us, but we can't change it, sorry. Best action - send us an email which will be answered as soon as we see the message, or try the phone again after a few minutes. Best time to call is afternoon, as our mornings are mostly in the warehouse or meetings.
RACER BMW M1 GROUP 5 CARS. The next totally new model in the Group 5 Series by RACER will be the BMW M1. Pre-production models are finished so we can confirm the cars will be released as you see them in these pictures.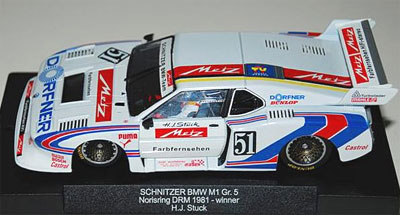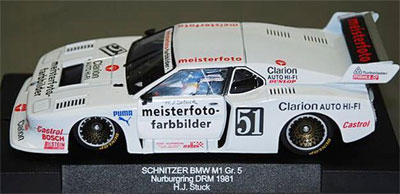 RCR-SW25 GP5 BMW M1 Meisterfoto
SILLY PRICE SALE CONTINUES. Not planned to go on for this long, we have kept the Silly Price Sale going for another week because we have changed and added some different cars. The new NSR Mosler and Audi R8 models as seen above are included, possibly the first time you can pick up such a good bargain. Plenty of others to choose from as well.....
PICTURE QUIZ
We will get around to starting the Picture Quiz again, but we seem to have run out of time since starting the Newsletter again, sorry. Sometimes there is just too much work and not enough hours in a day........
Quiz entries - you can email your answers to us at mre@mre.co.uk
Quiz Entries - Please title your entries Slot Quiz when sending your email answer. Quiz Prize is valid for 2 weeks from date the winner is announced. As it is a free quiz and free prize, we will not post the prize separately but we will include the prize in any order posted to the winner within the 14 days from being announced.
Car of the Week - available for 7 days from publication of the Newsletter, while stocks last. Only orders received within this time and with receipt of the code number will be eligable for the extra discount.
More email news soon - but if you can't wait then take a look at our HOT NEWS items which we add to regularly.
All text and pictures in this newsletter and on the MRE website are COPYRIGHT of MRE and may not be used in any way without written permission.