MRE Slot News 27 June 2013
NEW IN STOCK
This week we have new cars from MSC and SCALEAUTO and LE MANS MINIATURES.
As well as their range of rally cars MSC also make the Porsche 959 as a street car. The third version has now arrived in sparkling white, joining the previously released black and red cars, giving a nice option for this supercar.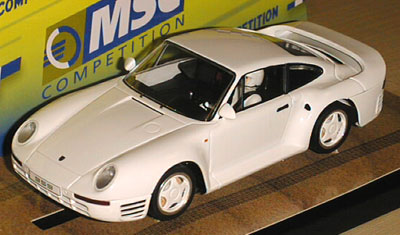 LE MANS MINIATURES have produced a version of the Ford GT40 that has never been done properly as a slot car before. For the 1965 Le Mans race the Ford GT40 cars had extended bodywork which gave them a much longer nose, plus small aero stabilisers on the rear deck. This bodywork was unique to this race and only for these two cars, so this is a great opportunity to have a different variation for the popular and famous car.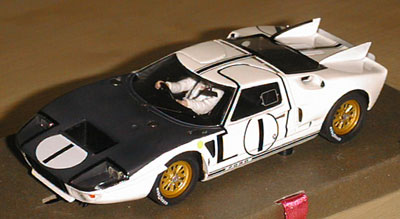 LMM-132065-1 Ford GT40 LM65 # 1
LMM-132065-2 Ford GT40 LM65 # 2
Three new cars arrived from SCALEAUTO. The long-awaited Honda HSV in Autobacs livery is the brightest coloured, the orange has a flourescent tinge to it so this car will be very easy to see at a distance, especially as it will probably be moving quite fast. The BMW Z4 cars are a standard livery of the Liqui Moly racer, and the white # 3 Barcelona car is a Limited Edition.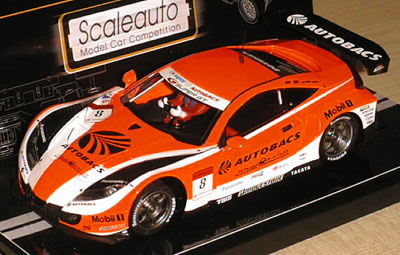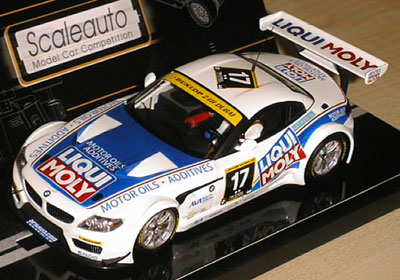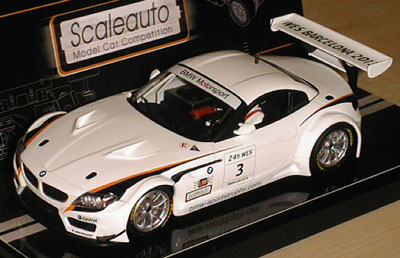 SC-6048 BMW Z4 Barcelona Ltd Ed
DUE TO ARRIVE
On the way to us are some new SRC cars, the second version of the Alfa Romeo 33TT12 which is the Targa Florio car, and another Porsche 907 with the long-tail Le Mans bodywork as raced in the 1967 event.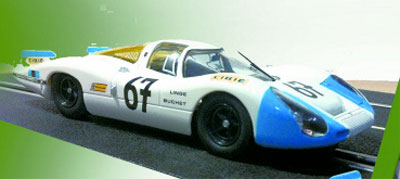 SRC-00103 Porsche 907LH # 67 LM67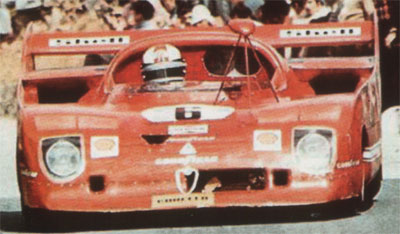 SRC-00801 Alfa Romeo 33TT12 Targa Florio
If you like the FLY trucks you will be pleased to know that a couple of versions of the SISU truck are on the way, decorated as courier companies UPS and Fed-Ex. These are both Limited Edition models, so grab one as soon as they arrive if you want something different to race against your MAN TR1400 and the Mercedes Atego announced below.
Expected to arrive at the same time, we have some complete kits of the RACER GP5 Zakspeed Capri and Lancia Beta Montecarlo cars on the way for drivers who like to do their own paintwork.
NEW CARS ANNOUNCED
CARRERA have announced two Limited Edition cars. As a retrospective reissue of one of their previous cars, the 1/24 scale Porsche 917 is being released to commemorate the original 1970s model. As with the recent 1/32 scale Cobra Universal Memories car, the new release of the Porsche is based on the current 1/24 Digital version of the car but with paintwork matching the original vacuum bodied car. The AC Cobra Yello Ltd Ed was shown at Nuremberg complete with figures of the pop group Yello on a car decorated with their emblem and some very large speakers attached to the back of the car. Apparantly realistic, even down to the grey colour which is correct and not just in primer ! Both of these cars are digital and have a very limited availability, the Porsche is being produced with only 999 units and the Cobra will have a limit of 1999 cars for worldwide release. Very few will come into the UK and we only have one guess at trying to get stock - first come first served I'm afraid.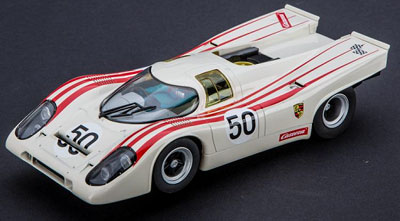 CAR-23786 1/24 Digital Porsche 917K # 50 Ltd Ed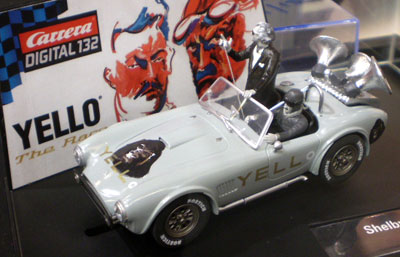 CAR-30655 1/32 Digital AC Cobra Yello Ltd Ed
Two new cars have been announced by FLY, but actually one is a truck. The Mercedes Atego make a reappearance, we don't have a very good picture but the truck raced at Zolder and appears to have some interesting decoration on the cab sides. This Williams FW07 was planned a few years ago and then abandoned, but now confirmed for production as the # 28 Carlos Reuteman car from the 1980 US Grand Prix. This could be your last chance to get a FLY FW07 as no others are planned.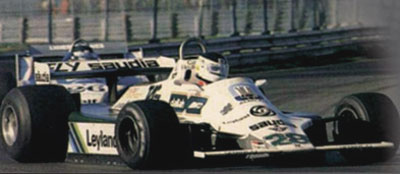 F-055106 Williams FW07 # 28 Reuteman USA 1980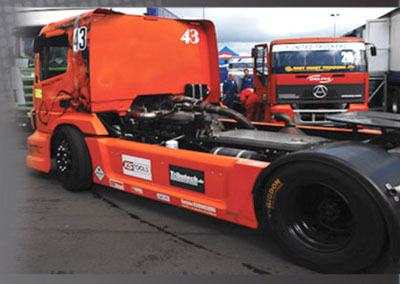 F-202101 Mercedes Atego Truck # 43 Zolder
NSR are releasing a bright red version of the Audi R8 Playstation car, this time with the EVO4 chassis with trangular motor mount. Due soon, probably with the next batch of NSR releases.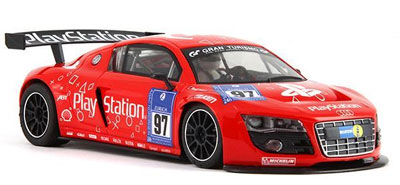 NSR-1154 Audi R8 Playstation EVO4
NEWS ROUNDUP
PIONEER CAMARO SUNOCO LTD ED. Its almost here - the PIONEER Chevy Camaro SS Sunoco # 15 car has been built and we have a picture of it in the special sleeve packaging. The car has been limited to ony 640 cars worldwide so advance orders are essnetial as we can't confirm delivery numbers. With the popularity of the Camaro, we hear a whisper that PIONEER may also produce the Sunoco # 16 car as a later release......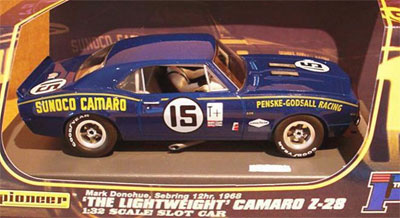 PNR-018 Chevy Camaro SS Sunoco # 15 Ltd Ed
SLOTWINGS - RANGE ANNOUNCEMENT DUE. At last, the waiting since Nuremberg is almost over. SLOTWINGS have produced some catalogue numbers for the Senna Series of cars and we hope to have them listed and available for order next week. But, the first SLOTWINGS releases are expected to be one of the Ferraris shown in their promotion so expect details of the 512BB hopefully followed by the Ferrari P3 and others. As soon as we have the full details we'll let you know in the Newsletter and of course add the cars for orders.
FLY PORSCHE 917 LUCKY STRIKE. Some years ago FLY released the Porsche 917K in Lucky Strike livery as part of their Historic Circuits series. The car had race # 4 and came complete with a history of the car, race, and circuit. FLY are now producing a new version of the car with race # 3 exclusively for South Africa. If any become available to the UK you'll hear about it first here.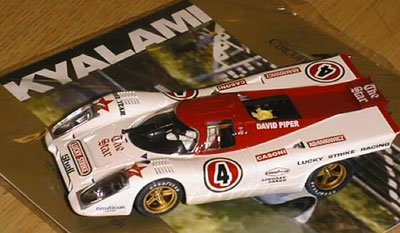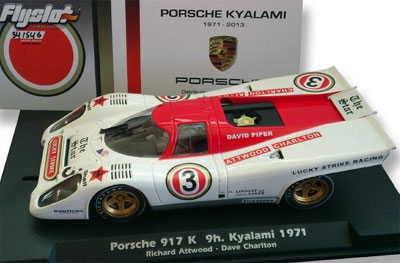 GULF PORSCHE 917 IN CAN-AM RACE. You probably all know about the works JW Automotive Gulf Porsche 917 Team racing in the Can-Am round at Watkins Glen in 1971. Now you will be able to have the cars because FLY will produce all three team cars, with releases one month apart and starting around November this year. We don't have catalogue numbers yet, but we can tell you that the # 91 was driven by Richard Attwood, # 92 by Gijs Van Lennep, and # 93 by Derek Bell. More details about numbers and pricing as soon as we receive more information.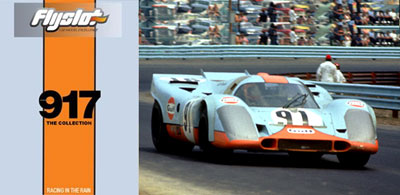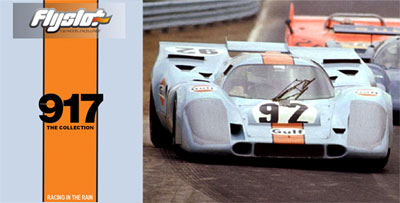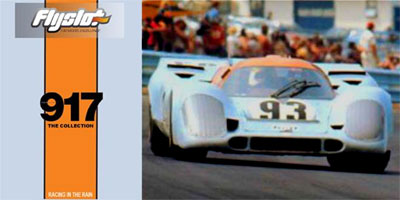 CAR of the WEEK
Actually lots of cars in the SILLY PRICE SALE. Final few days - we let the Silly Price Sale run on a bit longer than we intended, but we will be taking the cars that are left off sale after this weekend. There are still plenty of bargains to buy, including cars that were only released last week, and only a few days left for you to grab a bargain.
PICTURE QUIZ
Yes its back - a simple picture and question. No entry fees and nothing to gain except a bit of motoring history to test your brain cells. Seeing the announcement of the FLY Williams FW07 we had a look back at the real car in which Alan Jones won his World Championship. All we want you to tell us is..............................can you name all the drivers who raced the FW07 for the works Williams Team ?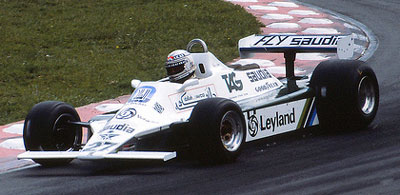 Quiz entries - you can email your answers to us at mre@mre.co.uk
Quiz Entries - Please title your entries Slot Quiz when sending your email answer. Quiz Prize is valid for 2 weeks from date the winner is announced. As it is a free quiz and free prize, we will not post the prize separately but we will include the prize in any order posted to the winner within the 14 days from being announced.
Car of the Week - available for 7 days from publication of the Newsletter, while stocks last. Only orders received within this time and with receipt of the code number will be eligable for the extra discount.
More email news soon - but if you can't wait then take a look at our HOT NEWS items which we add to regularly.
All text and pictures in this newsletter and on the MRE website are COPYRIGHT of MRE and may not be used in any way without written permission.