MRE Slot News 4 July 2013
NEW IN STOCK
This week we have new cars from SCALEXTRIC and FLY and SRC and RACER.
Two cars from SCALEXTRIC turned up on different days. First to arrive was the Holden Torana in 2SM Blues Union livery exactly as it raced at Bathurst. A few days later it was followed by the Ford GT40 entered at Le Mans by Ford France in 1966, looking very smart in its white coat with slender stripes.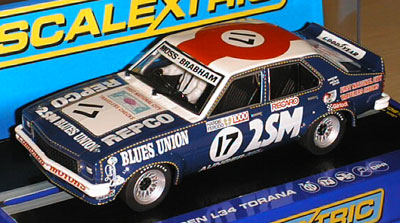 S-C3304 Holden Torana 2SM Blues Union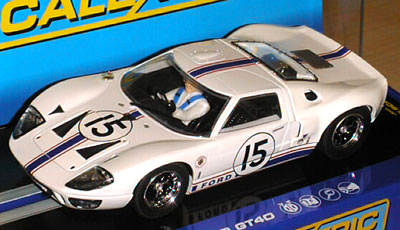 FLY delivered a pair of SISU racing trucks. Fans of the FLY trucks will know these haven't been around for some time, so we are pleased to get them back on the shelves. With the MAN and Mercedes trucks readily available again, truck racing is really back up to speed with these super detailed models.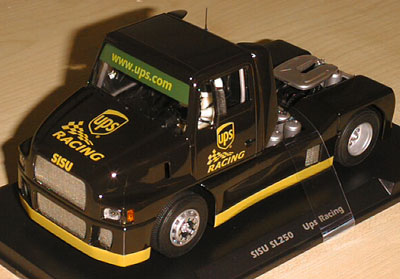 F-201301 SISU Racing Truck UPS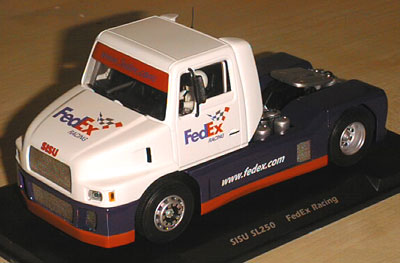 F-201302 SISU Racing Truck Fed-Ex
The RACER Group 5 Series has been very popular, and now you have the chance to decorate your cars. We have received complete kits of the Lancia Beta Montecarlo and the Zakspeed Capri, ready for painting and simple assembly. Many clubs are using the Group 5 cars as a club class, so a few different coloured cars on the track will liven up the grids.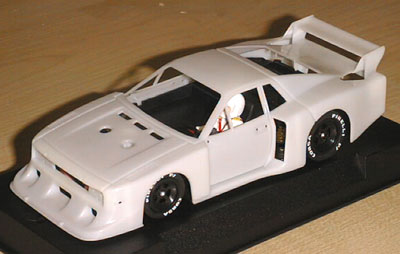 RCR-SWKBM GP5 Lancia Beta Montecarlo complete kit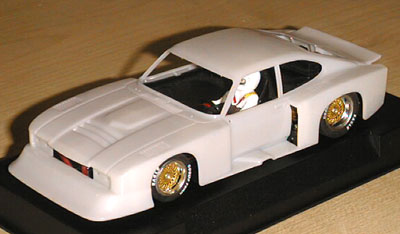 RCR-SWKBZ GP5 Zakspeed Capri complete kit
Another Porsche 907L and the second Alfa Romeo 33TT12 have arrived from SRC. The Porsche is a Le Mans entry, the Alfa is a Targa Florio car and has different bodywork to the first release.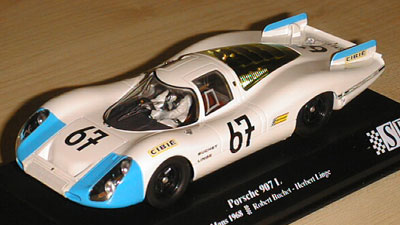 SRC-00103 Porsche 907L # 67 LM68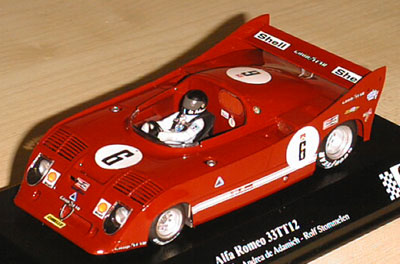 SRC-00801 Alfa Romeo 33TT12 Targa Florio
DUE TO ARRIVE
We will have a limited number of the SRC Capri RS2600 Bilstein car available. This is a Limited Edition for Germany and very few are available in the UK so grab one while you can if you haven't already made an advance order, as there won't be a second delivery.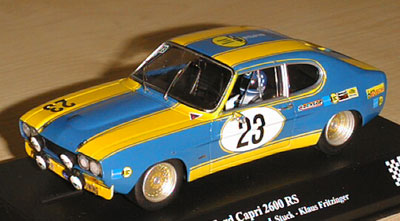 SRC-900108 Ford Capri RS2600 Bilstein Ltd Ed
Sunoco is one of the classic liveries and just as collectable as Jagermeister, Gulf, JPS, and many others. The PIONEER Camaro SS is a finely detailed and fast car already, the Sunoco colours just make it that little bit better, and you should be able to decide for yourself as the cars are due next week.

PNR-018 Chevy Camaro SS Sunoco
The JSPC version of the Mazda 787B is on the way from MR SLOTCAR. Easily confused with the Le Mans winning car, the JSPC model has the Renown orange & green colours reversed and races with # 202.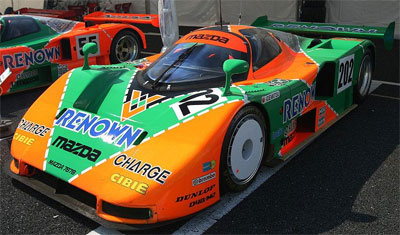 MRS-1004 Mazda 787B JSPC # 202
Both NINCO and CARRERA have some July releases scheduled, some of them could turn up within the next week.
NEW CARS ANNOUNCED
Here is the news many of you have been waiting for - SLOTWINGS have announced their first releases and they include the first car in the Senna Collection. See below for more information about the series, lets start with the actual deliveries. The first SLOTWINGS car to arrive will be the Ferrari 512BB Budweiser car as raced at Daytona, and this wil be closely followed by another Ferrari 512BB which is the blue Pioneer car from Le Mans.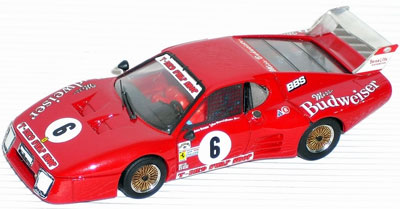 W-50101 Ferrari 512BB Budweiser

The first SLOTWINGS Grand Prix car to arrive will of course be the Williams FW08. Starting the Senna Collection is the Donington Test Car, and the second issue will be the Williams FW08 driven by Jacques Lafitte during 1983.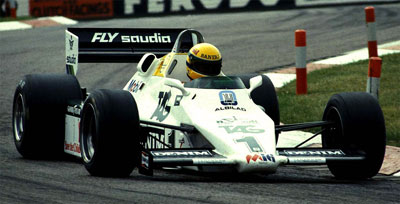 W-40101-SC Williams FW08 Donington - Senna Collection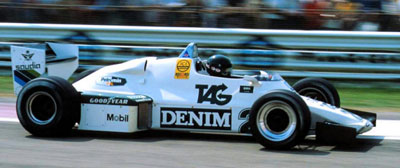 W-40102 Williams FW08 Lafitte 1983
NEWS ROUNDUP
SLOT-IT AVOID DUPLICATING ALFA ROMEO. The Alfa Romeo T33/3 Targa Florio car announced by SLOT-IT had been duplicated in the main range and also in the Limited Edition Winners range. The car will only be released once, as the main range SI-CA11F Alfa Romeo T33/3 Targa Florio # 5 car. For customers who had ordered this car with the alternative identity SI-CW15 we have preserved your order and changed it to the correct catalogue number. If you receive an email cancelling your order for the SI-CW15 please don't worry, you will still have the car on order but with its proper part number.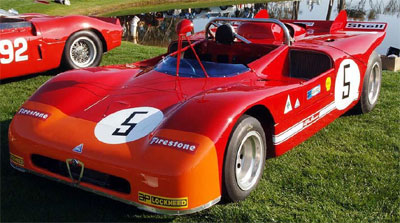 SI-CA11F Alfa Romeo T33/3 Targa Florio
SRC LUCKY STRIKE CAPRI RS2600. We told you about this car a few weeks ago, now we have pictures of the sign-off model which is being produced exclusively for South Africa. We have added it into the News Roundup section instead of the New Cars Announced section because we have not yet got confirmation of cars available in the UK. We have asked for a supply and are waiting for confirmation, so at this moment we are happy to take advance orders but must stress that we cannot guarantee delivery yet. Hopefully more news next week.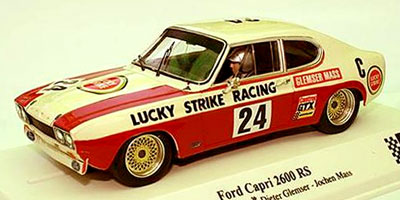 SRC-900109 Ford Capri RS2600 Lucky Strike Ltd Ed
SCALEXTRIC VW BEETLE 2013 RELEASE. We have a picture of this years release of the VW Beetle Monte Carlo for you from SCALEXTRIC. A nice bright colour to go with the previous versions, these cars are a lot of fun to drive and also popular for Slot Rally.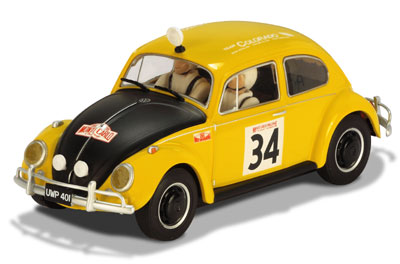 SILLY PRICE SALE ENDED. At last, after longer than expected, the MRE Silly Price Sale has now finished. Sorry if you didn't manage to pick up all the bargains you wanted as some cars sold out quite quickly. The good news - we are back with the regular Car of the Week offer - just look below !
CAR of the WEEK
Every week we have a car on special offer for Newsletter readers. No matter what discount you already get as an MRE customer, we will give you and EXTRA 10% off the Car of the Week.
SI-CW12 Audi R18 LM # 2 Ltd Ed
Quiz entries - you can email your answers to us at mre@mre.co.uk
Quiz Entries - Please title your entries Slot Quiz when sending your email answer. Quiz Prize is valid for 2 weeks from date the winner is announced. As it is a free quiz and free prize, we will not post the prize separately but we will include the prize in any order posted to the winner within the 14 days from being announced.
Car of the Week - available for 7 days from publication of the Newsletter, while stocks last. Only orders received within this time and with receipt of the code number will be eligable for the extra discount.
More email news soon - but if you can't wait then take a look at our HOT NEWS items which we add to regularly.
All text and pictures in this newsletter and on the MRE website are COPYRIGHT of MRE and may not be used in any way without written permission.